Mrs. Blog and I spent some time in Dubai over the weekend, eating dim sum and shopping and having dinner with a friend from India. It was the dim sum that got us in trouble.
We parked here...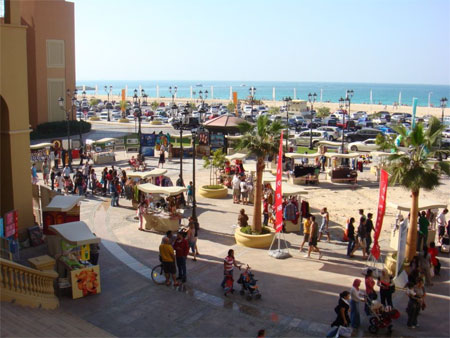 A beach and some residences.
... at
Jumeirah Beach Residences
and walked down the beach promenade to our dim sum shop. The dim sum was good, the weather was beautiful. But when we returned to
our car
, we discovered an atrocity had been committed against it. A parking ticket.
Of course, the ticket was entirely in Arabic, so interpreting what--if any--law we had broken was a little difficult. And we both sighed and ignored the irony (or whatever it is) of literally thousands of dangerous traffic violations taking place every minute, just a few hundred meters away on Sheikh Zayed Road.
But whatever. I have been trying to figure out this ticket. With the help of some Arabic-speaking friends in the office, I have determined that, apparently, we were blocking a highway. I have no idea how that is possible, as we were parallel-parked in a long row of parallel-parked vehicles that had not gotten tickets.
I tried to find a record of our ticket on the Dubai ticket-paying Web site, with almost zero success. No combination of the ticket number... or our license plate number... or my driver's license came up with anything. With one exception.
The system listed one ticket. It was for Dh110 (about $30). It was for speeding. And it was written in... 1993.
At least I was of legal driving age.